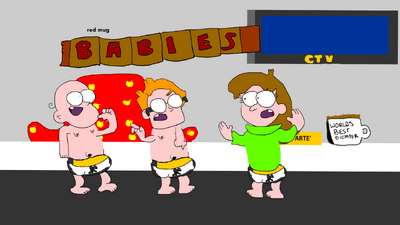 Babies is an animated web comedy on YouTube and Newgrounds. It revolves around the misadventures of three babies who rule the world, Jim, Owen, and Jessica. The series is semi-popular, as it only gains around 400 views per episode, but it seems to be getting more popular, as of recently.
Please read our Code of Conduct, and Manual of Style.
Featured Article

"The Aliens" (Part 2)
Vote here for a Featured Article.
Polls of the Month
Which episode is your favorite?
Not sure where to start?
Create Articles!
If an article doesn't already exist (don't forget to search) use the box below to create the appropriate page.
Community
Please visit the Forums for information regarding the selection of a Babies Wiki Administrator.
Latest activity